Primary 1: Unit 1 – Spelling Tests and Games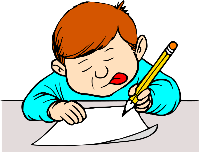 This is the word list that the students have to spell and be able to use for this unit. They will also be given a word list from the Vocabulary page each month to learn.
VOCABULARY LIST – Click here for flashcards

bag (n.) กระเป๋า
board (n.) กระดาน
book (n.) หนังสือ
chair (n.) เก้าอี้
clock (n.) นาฬิกา
close (v.) ปิด
crayon (n.) สีเทียน
desk (n.) โต๊ะเรียน
eraser (n.) ยางลบ
globe (n.) ลูกโลก
map (n.) แผนที่
marker (n.) ปากกาเมจิก
open (v.) เปิด
pen (n.) ปากกา
pencil (n.) ดินสอ
poster (n.) รูปโปสเตอร์
ruler (n.) ไม้บรรทัด
sharpener (n.) เครื่องเหลาดินสอ
table (n.) โต๊ะ
wastebasket (n.) ตะกร้าทิ้งขยะ
Are you ready to practice? Matching Words 1 |  Matching Words 2 | Just a Minute Game | Guess the Word Game | Wordsearch 1 | Wordsearch 2
SPELLING TEST
My book is in my bag. หนังสือของฉันอยู่ในกระเป๋าของฉัน
I am sitting on my chair at my desk. ฉันกำลังนั่งบนเก้าอี้ที่โต๊ะทำงาน
There is a clock and a map on the wall. มีนาฬิกาและแผนที่อยู่บนฝาผนัง
Please close the door and open the window. กรุณาปิดประตูและเปิดหน้าต่าง
I sharpen my pencil in the sharpener. ฉันเหลาดินสอของฉันด้วยเครื่องเหลา
There is a globe on the table. มีลูกโลกบนโต๊ะ
I draw a line with a pen and a ruler. ฉันวาดเส้นด้วยปากกาและไม้บรรทัด
I pin a poster on the board. ฉันใช้เข็มหมุดปักภาพโปสเตอร์บนกระดาน
I throw my eraser in the wastebasket. ฉันโยนยางลบของฉันลงในตะกร้าขยะ
I use a marker or a crayon to color pictures. ฉันใช้ปากกาและสีเทียนเพื่อระบายสี
Are you ready? Click here to do the Fill in the Blanks spelling test for this unit.