Thai Words Borrowed from the English Language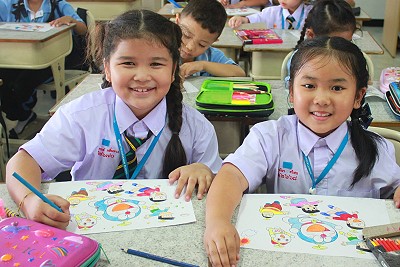 If you listen carefully to Thai radio you will be surprised to hear an English word spoken every now and then. Without realising it, your students probably already use a lot of English in their everyday conversation. Their textbooks are certainly full of English words. Like other languages, Thai has borrowed heavily from the English language. The thing is, most people don't realise they are English words. Triple your students English vocabulary list in just a few minutes by brainstorming a list of Thai words borrowed from English.
QUIZZES: Borrowed Words 01 | Borrowed Words 02 | Borrowed Words 03
This is quite a fun exercise that you can do as a class, in small groups or individually. Help get the ball rolling by giving them some examples. Of course, some of the borrowed words you might have to say with a Thai accent in order for them to understand. Footbon (football), gartoon (cartoon) and yazz (jazz) are a few examples to get them laughing. Also point out to them that there are some English words they use without really knowing the meaning. All students use liquid paper which they often shorten to just liquid. "May I borrow your liquid?".
EXERCISE ONE: Give the class 10 minutes to write down as many borrowed words as they can.
aerobics
air
apartment
apple
automatic
badminton
ball
balloon
bank
bar
baseball
basketball
battery
beer
blueberry
burger
CD
cake
caramel
care
carnation
carrot
carrot
cartoon
chairball
chalk
champ
cheese
cherry
chocolate
Christmas
classic
clinic
clip
club
coat
cocoa
com (computer)
condo (condominium)
cookies
copy
coupon
cream
dic (dictionary)
dinosaur
disco
donut
fair
farm
fashion
fax
film
football
footpath
free
freestyle
French fries
game
gear
giraffe
gift shop
golf
grade
graph
guide
guitar
gymnastics
ham
hamburger
hamster
helicopter
heroin
high class
hockey
hot dog
hotel
ice cream
ice skating
jacket
jam
jazz
jeans
karaoke
keyboard
kiwi
knots
lacquer
laser
lecture
lemon
lift
liquid paper
lock
lotion
lottery
macaroni
match
mayonnaise
melodeon
menu
microphone
mint
motor
multimedia
music video
mustard
necktie
nylon
note
nude
oak
office
pager
panda
peach
pear
piano
ping pong
pizza
plastic
polo
postcard
poster
printer
pump
pyramid
racket
remote (remote control)
ribbon
rock
romantic
rugby
sale
sandwich
sauce
saxophone
scotch tape
seafood
serious
sex
shampoo
shirt
shock
show
skateboard
ski
snooker
soda
softball
sound lab
soup
spaghetti
spray
spy
stamp
steak
stereo
sticker
strawberry
suit
supermarket
sure
tv
talking dic (talking dictionary)
tan
tank
tape
taxi
technique
technology
tennis
trumpet
video
view
violin
volleyball
walkman
wine
winner
yoga
zig zag
zip
EXERCISE TWO: Tell the students to open their Soborchor books (Life Experience). Give them 10-15 minutes to find as many English words as they can.
alcohol
altimeter
aluminum
ammeter
ammonium
sulphate
amp
anemometer
atom
bacillus
bacteria
battery
beaker
borax
calcium
calcium carbide
calorie
candescent
carbohydrate
carbon
carbon dioxide
carbonic
cartridge
cell
Celsius
cement
centigrade
centimetres
ceramic
chloroform
Christian
cocoa
contact lens
copper sulphate
cosmos
cut out
dynamo
electric
electron
enzyme
Fahrenheit
fluorescent
foam
focus
foot
fuse
galaxy
gallon
gas
generator
gentian violet
granite
graph
gypsum
heroin
hydrochloric acid
hydrogen
iodine
ion
kilogram
lacquer
latitude
lens
litmus
longitude
main switch
manganese
meter
metre
microwave
mile
molecule
monosodium glutamate
morphine
motor
neutron
nichrome
nicotine
nitrogen
nuclear
oxygen
percent
periscope
petroleum
plastic
plug
potassium
prism
protein
proton
PVC
relay
retina
saccharin
silicon
soda
solar cell
stratosphere
switch
technology
thermometer
tissue
tonsil
unit
uranium
virus
vitamin
volt
voltmeter
Watt
yeast